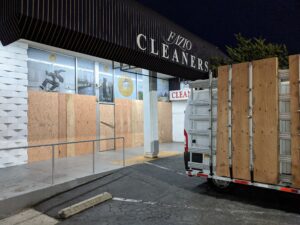 Board up services to prevent looters/vandals/burglars from entering your stores. Ensure the security of your business. 24/7 We respond quickly with emergency board up.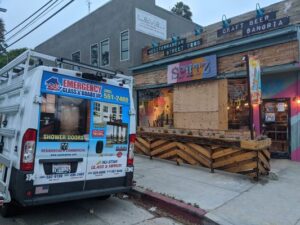 Glass Replacement/ Repair
We're proud to offer commercial residential glass replacement and home glass repair and installation services our customers rely on. Find home glass repair near me.
Storefront Windows & Doors
Glass windows and PVC doors of a storefront system make the first and a great impression to potential customers. Contact us 24/7 for all you commercial glass needs. 
Commercial & Home Glass Services in Thousand Oaks and surrounding cities for 30 miles. Call Us Today for a Free advice by phone (805) 551-2460. We are available 24/7 for Emergency Window and Door Glass Repairs and board up service.
We offer Custom Cut Glass for your Home or Business. Shower Doors & Enclosures, Mirrors, Glass Table Tops, Window & Door Repair.
Same day Residential & Commercial Glass Replacement or repairs. Sherman Oaks Glass Repair call (818) 701-0049. We are experts in Glass & Window Replacements. Affordable Home Window Glass Repair in Moorpark, Camarillo, Westlake, and Woodland Hills. We also service Encino, Malibu, Oxnard, Reseda, Granada Hills, Chatsworth, Northridge, Simi Valley, Thousand Oaks, Ventura, Moorpark, Oak Park, Newbury Park, Tarzana, Agoura Hills, and surrounding area. .
Commercial Services
Board Ups
Emergency Glass Repair & Replacement
Storefront Glass Doors
Commercial Window Glass
 Security Business Glass
Restaurant Glass 
Showcase Glass
Residential Services
Glass Repair and Installation 
Table-top Glass
Sliding Glass Door 
Home Window Glass 
Mirrors
Skylights
Shower Door Glass
Emergency Response
Don't tolerate impaired home security and a poor night's sleep. We respond 24/7 for all emergency glass repairs. If we need to replace your glass, we'll board up the damaged area so you can rest comfortably until your replacement pane arrives. In addition, we'll carefully clean your floor for large and unseen shards. Every step ensures your family's safety.
Double Pane Window Repair
Temperature changes cause broken seals that lead to excess condensation and cloudy panes. Worse, your home's climate control becomes ineffective and expensive as air leaks outside. Fortunately, Emergency Glass Repair and Board Up repairs your window by using the existing frame and replacing only the damaged panes.
Specialty Glass Repair and Renovation
Revitalize your glass home decor. Our specialists install custom mirrors, tabletops, shelves, door glass and more. This comprehensive service shows our dedication to balancing beauty and functionality in your home.